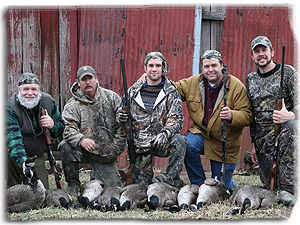 Thank you for visiting our website. If you are looking for a quality guided goose hunt, Professional Guide Service, Inc. is your outfitter. We are lucky to be located on Maryland's Eastern Shore in Talbot County, which is known to have large numbers of wintering geese. Access to great farms, many years in business, and a high success rate of kills make us a quality hunting business and the best choice for your hunt.

We shoot decoying birds from well constructed pits, hedge rows and water blinds. No waders are necessary, in most cases, we can drive you right to the blind. Recommended foot gear would be a low boot or a water proof shoe. We provide guide, blind, and decoys at a reasonable rate for day hunts. many times, hunter's take their limits by mid-day. On a typical hunt, we will meet you in the morning at a local restaurant in Easton, Maryland where you will be assigned a guide for your party. This guide will take you to a neighboring farm a short distance away where you will put out decoys and call geese, the guide remaining with you during the entire hunt. Afterwards, you can have your birds breasted or picked and dressed at one of the nearby "picking houses"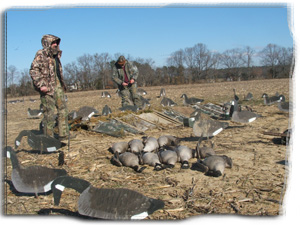 which will also refrigerate and store meat for those who plan on several day hunts.

We hope to have you hunt with us this season.
You can book your hunt here on the website or by calling Bradley Higgins
at 410-829-8540. Let's go hunting!